Rajant Corporation, hosted its tenth annual Veterans Day remembrance in support of Pennsylvania Wounded Warriors at Rajant's headquarters in Malven, Pennsylvania. 
Rajant Corporation is the broadband communications technology company that invented Kinetic Mesh® networking, BreadCrumb® wireless nodes, and InstaMesh® networking software. With Rajant, customers can rapidly deploy a highly adaptable and scalable network that leverages the power of real-time data to deliver on-demand, mission-critical business intelligence.  
Rajant co-founder and CEO Robert Schena presented a $20,000 donation to Pennsylvania Wounded Warriors, Inc., an independent, statewide nonprofit organization through which 95 percent of all donations go directly to veterans needing financial support and their families. The gift comes from a $15,000 contribution from Rajant in the name of the company's annual golf tournament winners and a $5,000contribution from Rajant's manufacturing partner EFE. 
Pictured were Kip Anthony – EFE Labs, Lt. Colonel Frank Sager – PA Wounded Warriors and Bob Schena, CEO and co-founder Rajant Corporation 
Mr. Schena presented a $1,000 donation to Friends of the Medal of Honor Grove, a 501(C) 3 located in Valley Forge (PA). It is the oldest living memorial for our nation's highest military honor. Rajant's gift will go to Wreaths Across the Grove, which takes place on December 16th, 2023, and blankets the 40+ acres with holiday wreaths beautifying the graves for the 3,500+ recipients of our country's Medal of Honor. 
On hand for special remarks was Chester County (PA) Commissioner Marian Moskowitz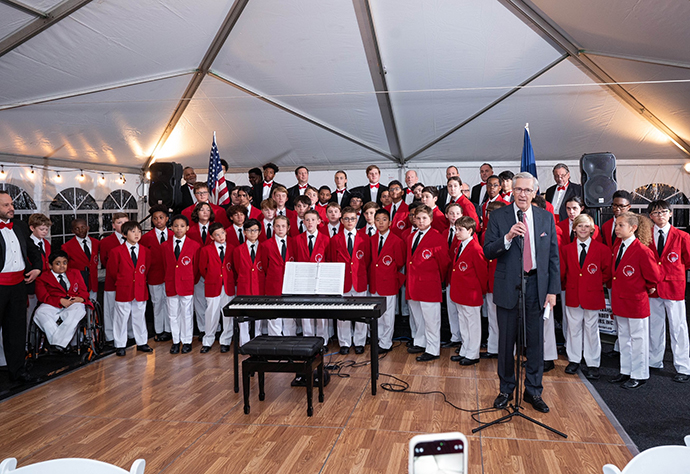 Music was presented by the Philadelphia Boys Choir & Chorale, led by Artistic Director Jeffrey R. Smith. The musical ensemble is renowned for its commanding musicianship, intelligence and interpretive abilities.