1. Jen Su, Karen Cox, Jennifer Lynn Robinson and Nicole Marengo attended the event
PHILADELPHIA, PA (August 18, 2022) — On a beautiful summer evening over 5,000 elegantly dressed visitors descended upon Logan Square for the 10th annual celebration of Le Dîner en Blanc Philadelphia. Guests had the opportunity to dine at the square, while enjoying spectacular entertainment and indulging in the rich history of Le Dîner en Blanc. Le Dîner en Blanc Philadelphia was thrilled to ring in an incredible evening and celebrate its tenth anniversary. This year, beloved traditions were kept alive as guests signaled the commencement of the event with a coordinated napkin wave and soon after lit up the square with a sea of sparklers.
In 2012, Le Dîner en Blanc Philadelphia organizers Natanya DiBona and Kayli Moran chose Logan Square as their first ever location for the Parisian pop up. Logan Square provides a rich history, culture, and a spectacular backdrop for the event. That's why 10 years later, the organizers felt it was only right to celebrate in the location that started it all, this time taking over a much larger footprint.
The square is characterized by Swann Fountain, represented by its bronze sculptures completed by Alexander Stirling Calder. The three sculptures, also known as "The Fountain of Three Rivers", represents Philadelphia's major waterways: the Delaware River, the Schuylkill River, and Wissahickon Creek. With a rich history
influenced by Parisian culture, Logan Square was the perfect scene for Le Dîner en Blanc Philadelphia's 10th Anniversary.
6. Inside Logan Circle, the majestic Swann Memorial Fountain attracts many visitors. Designed by Philadelphia-born sculptor Alexander Calder, the massive fountain represents the region's major waterways: the Delaware, Schuylkill and Wissahickon. Ken Gardner wearing his Swann sculpture statue guise welcomed DeeDee Heyward to Diner en Blanc's 10th anniversary event!
8. Julia and Chris Ward, Virginia Baltzell and David Orthwein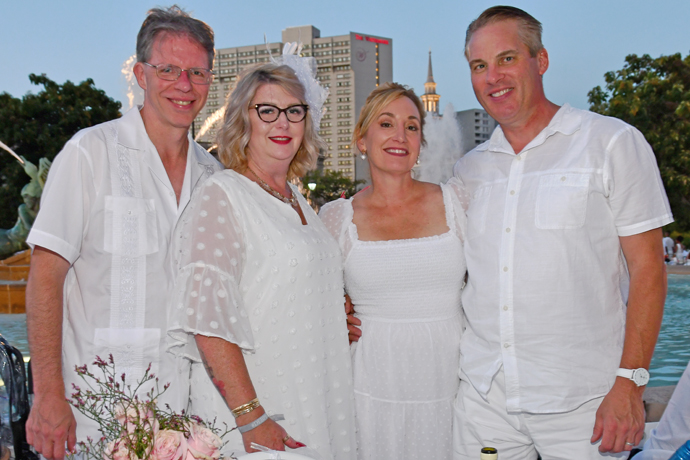 9. Jeff White, Bernadette Deveney and Dawn and Rick LaBenz
11. Shy Nicholas, Tracy King, Kathy Miller and Tanya Moore
15. Visit Phiadelphia Chief of Staff Michael Newmuis (right) and friends paused for a photo during the fabulous 10th anniversary event