1. Michael Smyth, President and COO, Jaguar Land Rover Main Line, hosted an exclusive preview of the new 2022 Range Rover Sport on Thursday, July 28 at 118N in Wayne. Smyth shared, "Philadelphia's Main Line will love this vehicle. The new Range Rover Sport just keeps getting better. Its luxurious interior offers the most comfortable seats ever plus additional leg room in the back seat, and more shoulder room and head room throughout." Attendees of this special launch event included Michael Smyth's Land Rover Main Line executive and sales team, family members, VIP customers, and special guests including John Colabelli, President, Mid-Atlantic Portfolio, Modern Luxury Magazine; King Saladeen, renowned Philadelphia artist; and other area Main Line celebrities, business owners, and entrepreneurs. Offering the one and only luxury automotive ownership experience in the Delaware Valley, Michael Smyth leads Jaguar Land Rover Main Line with the belief that the quality of a retail experience depends on the people a client interacts with. Jaguar Land Rover Main Line is located at 325 Lancaster Ave, Wayne, 610-520-2000, www.LandRoverMainLine.com . During the 2022 Range Rover Sport reveal Michael Smyth paused for a photo with Robert "Rib" Klein, Adjutant of Bateman Gallagher American Legion Post 668.  Michael Smyth will make a $250,000 donation to The American Legion.
2. Jen Su, Karen Cox and Jennifer Lynn Robinson attended the event
3. Tak Papariello, Reese Ruffino and Paul Gauthier of Jaguar Land Rover Main Line welcomed guests to the event 
4. Ron Dembroeder and Peter Lamley paused for a photo in front of the new automobile 
5. Jim Wallace and Charles and Tim Valluzzo attended the event
6. Publicist Leslie Padilla and Afea Tucker chatted with Gabriella Jean and her mother Hillary Jean
7. Diane and Jose Oliva arrived at the event
9. Leonard Day, Susan Arizini and Nelia Mooney were pictured as they arrived at the event
11. Guests included Boe Bassiri, Chris Banks and Robert William
12. John Colabelli chatted with Michael Smyth Sr.
14. John Colabelli paused for a photo with King Saladeen and Francis Mangubat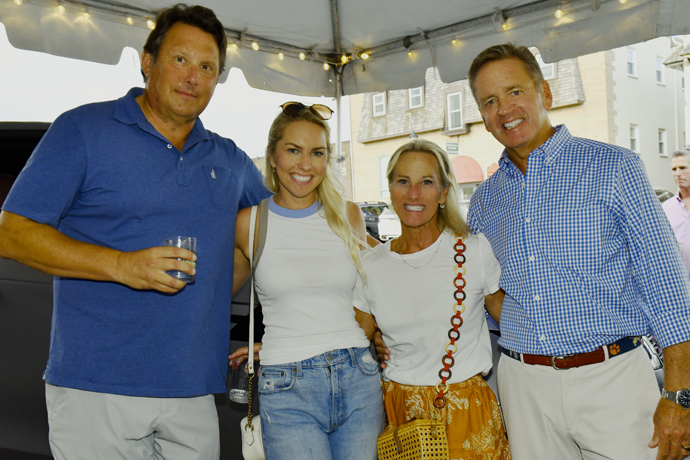 15. Guests included Chris Albany, Chandler Taylor and Anne and Reed Taylor