1. The Radnor Hunt Races celebrated its 91st Anniversary on May 21, 2022 during the spring tradition of steeplechasing at the Radnor Hunt. Six exciting races featured horses galloping over hurdles and timber fences for purses. Attendees enjoyed tailgate picnics with friends and family while helping to win the race for open space. Proceeds from the Radnor Hunt Races benefit the land and water preservation programs of the Brandywine Conservancy in Chadds Ford,
Pennsylvania. Pictured were (back) Steve DeWitt, Ty Rutty, Bridget O'Brien, Ryan Macchione, Jackie Griffin, Michaela Connolly, Valeria Khmelnitsky, Allaire Corbett, Deep Logani and (front) Leanne Weiner, Avinash Raghupathy, Emily Rollet, Natasha Poluektova and Christina Saunders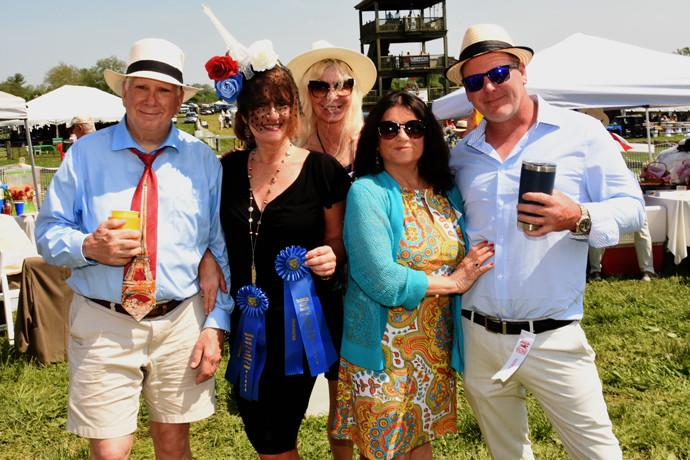 3. Glenn Price, Carolyn Slota, Rachel Roman, Stevi Richards and Steve Stackhouse. Carolyn won first place for her  Eiffel Tower Hat!
6. Ladies in Red, Susan Jablokov, Karen Cox and Jen Su enjoyed the day
7. Orpheus Club members Jonathan Turner, Mark Still, Jim Corcoran (f), Dwayne Grannum (r), William Handy, Jr., Michael Maicher (r), Brad Richards (f), Bill Schmidt (r), Win Dougherty, Scott Carter and Henry Winsor. gathered for a photo during the event
8. These ladies had fun with Missy Schwartz (center)!
10. McCue family members and friends Hannah Smith, Morgan McCue, Joey McCue, Leigh McCue, John Rush, Kim Rush, Rose and Gene Slaughter and bottom row, Matt Trey, Annalyse McCue and Lance McCue paused for a photo at  their tent during Race Day
11. Kat Duca and Kim Rowland
12. Laura and Alex Manion, Suzanne and Sean Manion and Laura and Ken Montgomery enjoyed a day at the races!
13. Morgan and Sonya Churchman, Eric McGee, Anne Cassidy, Dawn Criville and Steve Salva