1. On Wednesday, January 5, 2022, the Union League of Philadelphia Real Estate Club held its first luncheon of the year. The guest speaker was Center City District's president and CEO, Paul Levy. Mr. Levy spoke about how the pandemic has affected the city and its services and how Philadelphia will go forward in 2022 and future years. A lively Q&A followed Mr. Levy's remarks. The CCD is a $27.9 million downtown management district that provides security, cleaning, place marketing and planning services as well as streetscape and park improvements for the central business district of Philadelphia. ULRE Chair Bill Lloyd (left) paused for a photo with Mr. Levy, Mark Merlini who made Mr. Levy's introduction to luncheon guests, and ULRE member Paul Becker.
2. Guests included Brian Goren, Lynn Laurent, Smith Patel and Mitch Cohen.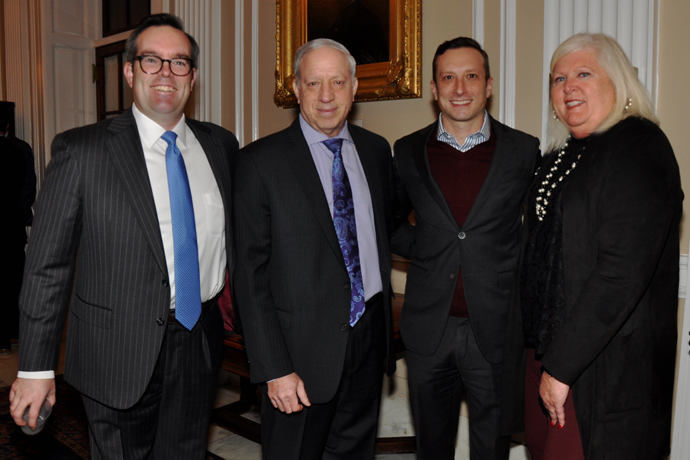 3. Bo Birtle, Craig Karasin, Jamie Weiner and Missy Dannehower.
5. Lynn Laurent, Lawrence Gariano, Bill Lloyd and Larry Levin.
7. Craig Snyder, Joseph Curcio and Sean Beuche.
8. ULRE chair Bill Lloyd and Past Chair John Finley.
10. Stephen Dennis, Dermid Kelly and Luke Thomas.
12. Missy Dannehower, Carmine Rego and Stephanie Turzanski.
13. Stephanie Turzanski, Suzette Webb, Kristin Daly, Erin Dimitriou Smith, Suzy Pratowski, Eleni Latsios and Missy Dannehower.
16. Suzy Pratowski, Bill Dalton, Suzette Webb and Julia Brines.