1. Harrah's Resort Atlantic City & Philadelphia Style presented "A Midsummers Night's Dream " Reimagined at The Pool After Dark on Saturday, July 31, 2021. Complimentary Signature Grey Goose Essence, Chef's Culinary Pairings and Amazing Live entertainment set the mood for the VIP Party of the Summer and guests were "Dressed to Impress" (From left) Jen Groover, Steve Berti, Monica Miraglio, Michael Miglio, Jim and Evelyn Wade, Elaine Grosso and her friend Michael Loewenstern paused for a photo with Philadelphia Style Publisher John Colabelli (third left) during the event.
2. Ron and Jaimi Blackburn and Jennifer and Walter Robinson attended the fabulous event.

3. Tom and Danielle Ashley chatted with Greg Basile.
4. Guests included Nicolette Byricki, Whitney Ullman, Dr. Jennifer Caudle, AJ Mattia, Dr. Thanuja Hamilton, Nicholas Perugino, Alec Palmieri and Joe Tordella.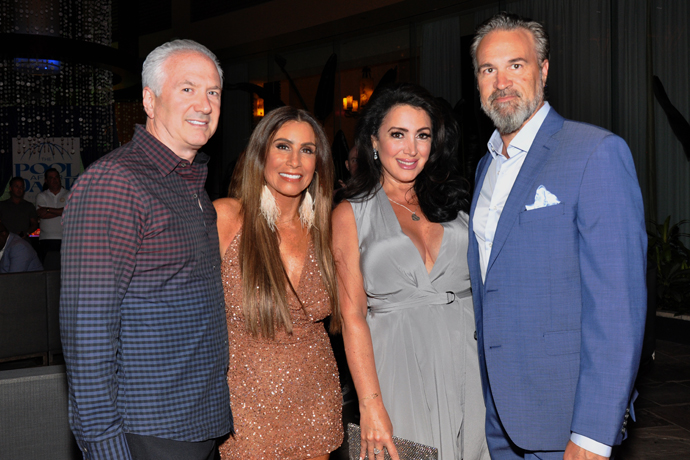 5. Andy Hennig, Jill Rizen and Eliana and Mike Raggio attended the event.
6. John and Wendy Lavery and Tom and Alison Petrelli.
8. Madison Leonard, Doug Sayer and Melissa Leonard.
13. Monica Miraglio, Linda Walker and Ebony Edwards.
14. Philadelphia Style publisher John Colabelli chatted with Debbie Adelmann and Olivia Falcione who also work for the mag!
16. Lynsie Feinberg and AJ Mattia paused for a photo with friends.
17. Donna Coghlan shared a moment with Adam Spivak, Laura Roesser and Victoria and Ryan Pollack.
18. Chit Chats Hughe Dillon was there for the fab event. He paused for a photo with Bob Nigra and Marilyn Melasecca.
19. Girls having fun included Joelle Bridgers, Alison Carr, Maryann Barbosa, Whitney Ullman and Dr. Jennifer Caudle.