Diner en Blanc founders Kayli Moran and Natanya DiBona paused for a photo at the Rittenhouse Lion during the DEB2021 event
Philadelphia, PA (August 12, 2021) — Three Thousand elegantly dressed guests descended upon Rittenhouse Square for the ninth edition of Le Dîner en Blanc – Philadelphia. Guests had the
opportunity to dine in one of the city's most iconic and picturesque parks while enjoying exciting entertainment and returning to the origins of Le Dîner en Blanc; a secret pop picnic in
the park. After putting a pause on in-person events last year, Le Dîner en Blanc was excited to get back to the traditions that truly make the event ever memorable. Rittenhouse Square,
designed by French architect, Paul Philippe Cret, and located in the city's French Quarter, is the perfect pairing for this elegant event that began in Paris more than thirty years ago.
Rittenhouse Square is the fourth of William Penn's original five squares to host Le Dîner en Blanc Philadelphia. The very first event was held in Logan Circle in 2012, followed by Franklin
Square in 2017 and City Hall in 2018. Rittenhouse Square is characterized by magnificent architecture, perfected landscaping, and is at the center of one of the city's most picturesque
neighborhoods.
Organizer Natanya DiBona says, "Not only is Rittenhouse Square a beloved and beautiful public space in Philadelphia, but it's rich in French culture and embodies what the event strives to
celebrate: community, friendship, fine food, and the arts."
4. Debbie and Lexi Adelmann.
5. Usman Habib and Qandeel Khan were pictured with Gabrielle Ochoco and Sabir Peele.
7. String Legacy entertained during the event.
8. Jessica Lawson and Stuart Robinson enjoyed DEB 2021!
9. A napkin waving table – a DEB tradition!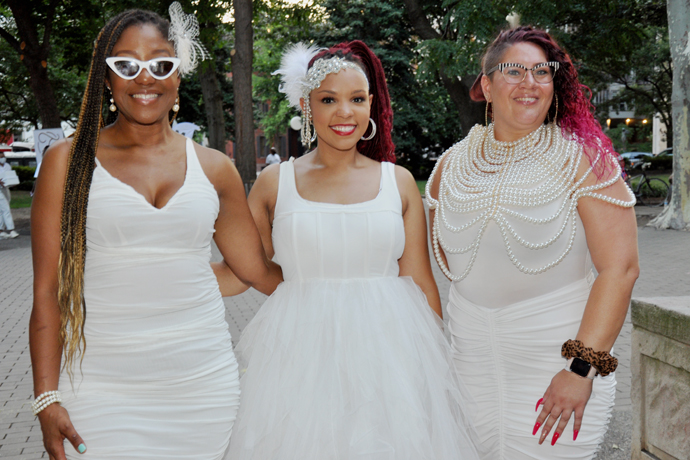 11. Tanya Moore, Shy Nicholas and Marissa Cefaratti.
15. Philly PR Girls Bailey Welsh, Nicole Hulll,  Katerina Zaidias,  Dominique Fiorentino and Andrianna Acosta, paused for a photo at the event.
17. Conni and Anya McDonnell (left and right) paused for a photo with DEB founders Natanya DiBona and Kayli Moran.