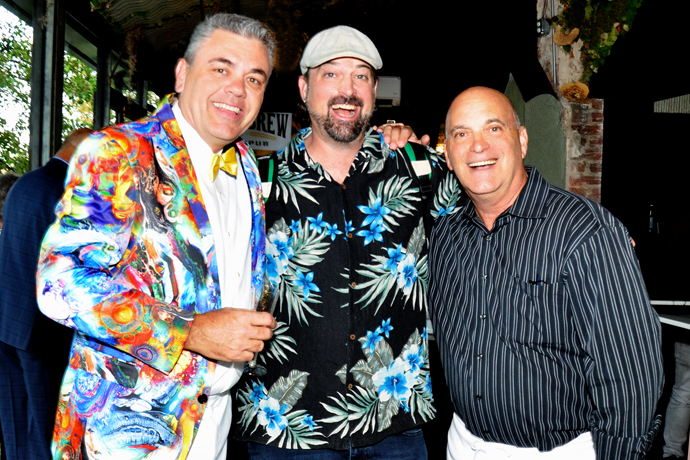 1. Television channels (NBC 10, PHL 17, FOX 29, 92.5 FM, and more), as well as social influencers, township officials, alcohol and food vendors, and a huge community of business and restaurant owners (by invitation only) attended Havertown's Brick & Brew grand opening on Thursday, July 22, 2021! The event featured a 6-piece band, a DJ, a red carpet, step n repeat, a huge charcuterie table and raw bar, 14 unique butlered appetizers, a donut wall, a flambe station, and a handful of giveaways via raffle tickets. Guests in cocktail attire enjoyed a new normal evening out! The event was organized by a newly founded agency, Main Line Marketing agency at mainlinemarketingagency.com who were honored to plan and produce the grand opening and support the community with a such a grand celebration. Brick & Brew owner Tom Kane paused for a photo with Rev Ciancio and Victor Orsini.
3. Jenna Meissner of PHL17 Morning News team, Keller Williams Real Estate agent Michelle Leonard and former University of North Carolina Men's Lacrosse player Tate Jozokos were pictured at the event.

5. Matt Manfre was on hand to serve coffee and donuts. Marcus Dent of House Cup shared a moment with him.
6. Guests included Jessica and Stephen Schol and Stephanie Donlevie and Janen Teta. 
8. Shawn and Lorie Lynch, Lisa Bizjak and Jenni and John Raughley attended the opening event.
9. Kayla Kane, Tommy Kane, Tom Kane and Stephanie Demitis.enjoyed the grand opening event.
11. Raoul Suarez, Juliana Reifigo, Steffany and Carlo Meleidez attended the grand opening event.