1. The Saturday Club's Holiday Market took place on Saturday, November 14, 2020. The market featuring local artisans, entrepreneurs and business owners took place outdoors in the Club's  driveway. Those attending kicked off their holiday shopping season and supported locally-owned small businesses! They included The Saturday Club Shop • Maureen Boyd Designs • Lily Lough Jewelry • The Blue Beret • Scout & Cellar's Main Line Clean Wine • Gingy's Boutique • Lisi Lerch Jewelry • Moss + Brooke • ML Wilcox • Bar Spoon Beverage Co. • Kendra Scott • Krafty Kreations • Discover Peach • Serene & Green • Lovebirds Boutique • Culinary Harvest • Megan Tidmore Photography • Softsie • Christine Shirley Designs • Studio317North • and Anchored in the Main Line. The Saturday Club was formed to fill a need for women in the community to enrich their own lives outside the home. The club's official motto "Dare to be Wise" gives a clue to what ladies of the late 1880's faced when attempting to broaden their horizons. Saturday Club members Allysa Brown, Grace Gaspari and Lisa Watkinson gathered for a photo at their table during the event.
3. Dunham Churchill, Catherine Durette, Ellie Good and family and Cory Townend paused for a photo at the event
4. Maureen Boyd of Maureen Boyd Designs was among the vendors  at The Saturday Club's event.  William Higgins stopped by to say hello!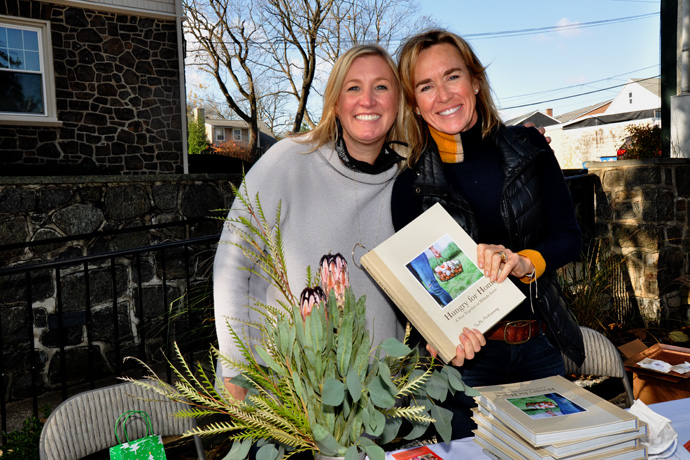 5. Ruth McKeany (right) held a book signing featuring her new book called "Hungry for Home". Megan Tidmore of Megan Tidmore Photography joined her in a photo.
6. Tara Palmisano, Jennifer Robinson, Jaimi Blackburn and Kim and Kelley Wakiyama gathered for a photo at the event.
7.  Wayne business owners  Sam Kennedy and Carlo Luciano of Culinary Harvest Pa offered food samples to attendees at  the event.  Culinary Harvest is a members-only produce subscription and private online marketplace. Members receive a weekly box of produce and access to their exclusive online marketplace, with safe, convenient, contact-less pickup in the heart of the Main Line.