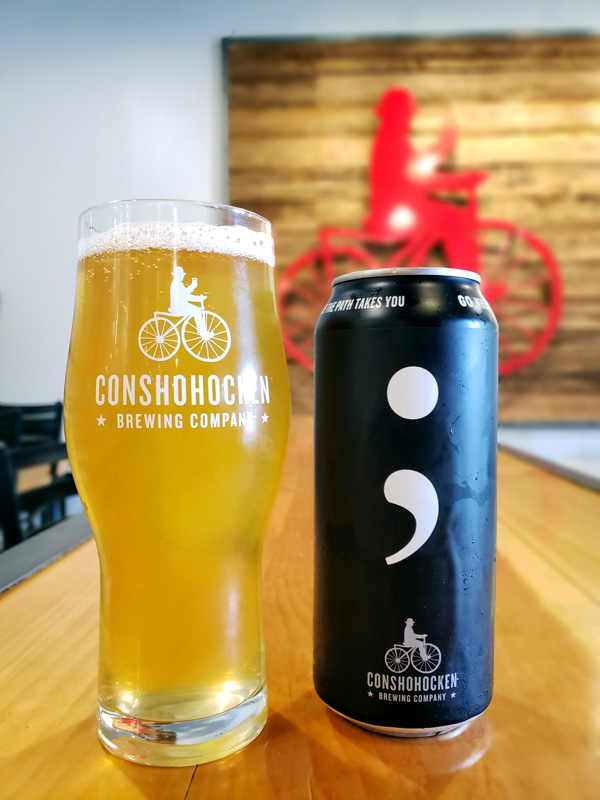 "This is the second year we've made Semicolon, a beer that benefits the American Foundation for Suicide Prevention. The response last year was amazing – so it was a priority for us to release Semicolon again this year, " according to William Livingston, Brand Manager for Conshohocken Brewing Co."Semicolon is going to be a different beer each year; it'll be something we feel we want to showcase at the time. Our choice here is twofold: to reflect the spirit of the movement itself, the story isn't over, and to shift the significance of the project to the cause itself. Last year we brewed an Amber IPA that featured the new hop varietal Sabro. This year's Semicolon is a gluten-free Pale Ale. Golden, crisp, and pleasantly hoppy upfront with a smooth finish featuring notes of citrus and pine."Len Boris, Director of Beverage for Fearless Restaurants said, "We offer Conshohocken Brewing Co. products in all of our locations. Fearless Restaurants believes in supporting local Dog businesses, one of the pillars of the foundation for our White Dog Cafe locations is using locally sourced products and another is giving back to the community, so this opportunity was a great fit for us." Semicolon will be offered on tap at our four White Dog Cafe restaurants, Rosalie and Autograph Brasserie in Wayne, and Louie Louie in University City. It will be available in cans at the Moshulu and will be offered at all locations until the product runs out. Fearless Restaurants will donate $1 from the sale of each Semicolon purchase. "We are hoping our guests come out to enjoy this limited brew and also support a great cause," Boris added.
Livingston said, "We chose the American Foundation for Suicide Prevention because we deeply respect the work they do and the approach they take. The foundation supports everyone affected by suicide and makes tangible efforts to ensure those resources are easily available and destigmatized.
AFSP's growing nationwide network of chapters brings together people from all backgrounds who want to prevent suicide in communities. Families and friends who have lost someone to suicide, vulnerable individuals, mental health professionals, clergy, educators, students, community/business leaders, and many others energize the Philadelphia Chapter.
Conshohocken Brewing Co. is founded on the same American industrial spirit as the borough for which our brewery is named. Conshohocken, PA was an industrial national hub in the late 1800s – a time of bowler hats, small local breweries, and velocipede bicycles. We are carrying that same spirit forward through our hand-crafted beers and our personal commitment to each and every beer we brew. Brewing in small batches, each of our beers is uniquely crafted, allowing us to share innovative, fresh, high-quality beers with the good people of our communities.
Fearless Restaurants is an expanding collection of restaurants featuring engaging décor, inspired hospitality, creative menus, and a dining experience that allures all the senses. Lead by restaurateur Marty Grims and his daughter Sydney Grims, Fearless Restaurants neighborhood favorites that become a destination for dining. Innovative and inspired seasonal menus feature the finest and freshest ingredients. Located throughout the Philadelphia region and on Long Beach Island, NJ, Fearless Restaurants include the landmark Moshulu Restaurant on Penn's Landing, White Dog Cafe in University City, Wayne, Haverford, and Glen Mills, Louie Louie in University City, Autograph Brasserie in Wayne and on Long Beach Island; Daddy O Restaurant & Hotel and Tuckers Tavern. For more information about Fearless Restaurants, contact Jaimi Blackburn at 610.220.3231 or jblackburn@fearlessrestaurants.com