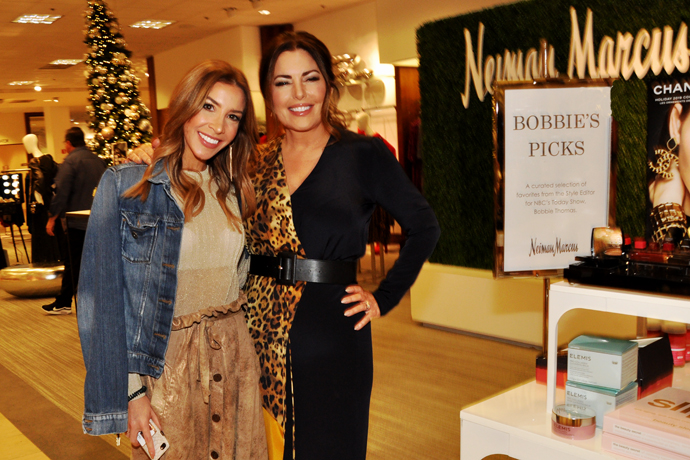 1. Our Closet "Fashion for All" reception and fashion show took place on Thursday, November 21, 2019 at Neiman Marcus,  King of Prussia. More than 300 guests attended a fabulous fashion show organized by the Neiman Marcus team. Our Closet is a volunteer-driven organization that provides clothing to vulnerable Philadelphians and their families free of charge by operating "Pop Up Shops" throughout the city. Their goal is to meet a basic need for their shoppers so they can better focus on handling other stresses in their lives, such as securing a steady source of income or finding permanent housing solutions with confidence. Bobbie Thomas (right) who served as Our Closet's emcee, is the Style Editor for NBC's Today Show. She has been considered a beauty and fashion expert for over a decade, and has appeared on TV shows including E! Red Carpet coverage, Style Network's Fashion Police, The View and the Wendy Williams Show. Bobbie was pictured with Neiman Marcus Public Relations Director Dana Filetti.
2. Neiman Marcus Assistant General Manager Diane Joyce, Our Closet emcee Bobbie Thomas, Our Closet founder Jill Aschkenasy and Neiman's Public Relations Manager Dana Filetti paused for a photo at the step and repeat during the reception.
3. Philadelphia Fashion Incubator Executive Director Elissa Bloom (left) was pictured with Robyn Carp, Alyson Nerenberg, event chair Paula Glazer, Jen Rosenfarb and Kelly Barrie.
5. Elyse Berger, Michele Sherman, Janna Weinerman and Pamela Berman.
6. Beth Spirn, Sally Aromstam, Michele Halpern and Alysa Casey were pictured with Our Closet founder, Jill Ashkenasy (second right), during the reception..
7. Colleen Peck, Jaimi Joffe and Elissa Bloom.
10. Kaitlyn Moshang, Caroline Fernandez, Katie Meduerian and Audrey Gentile.