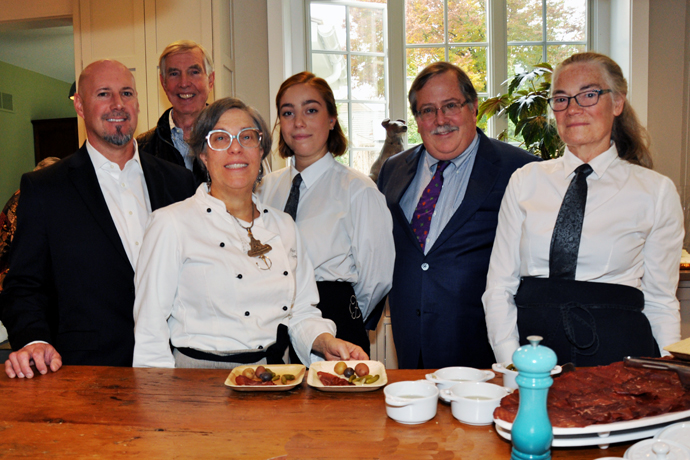 1. The 9th annual Notable Kitchen Tour & Chef Showcase took place on Thursday, November 7, 2019. The Main Line Committee for The Philadelphia Orchestra presented this exciting tour of some of the Main Line's newest and unique kitchens for the benefit of The Philadelphia Orchestra. The self-guided tour featured Main Line homes where each of the kitchens featured a cooking demonstration by a
"notable" chef and taste-testing samples available for all visitors. Floral designs and unique table settings by local retailers were also presented in each home. The Main Line Committee is one of the volunteer committees dedicated to supporting the work of The Philadelphia Orchestra. The Orchestra annually touches the lives of more than one million music lovers worldwide through its performances, publications, recordings, and broadcasts.  Kountry Kraft Designer/Sales Representative Shawn Preis and builder Chip Vaughan joined  Feast Your Eyes team members, Lynne Buonno, Hannah Schwartz, Pol Duffy and Sheila McFadden, who provided culinary treats to tourgoers in this kitchen in Wayne.
3. Chef David Iocabucci and Key Fox of Aneu Caterings offered samples from Aneu's menu.
4. Joe Stauffer, who designed the kitchen at this Villanova home, paused for a photo with volunteer committee member Ellen Epps and property manager George Metzler.
6. Barbara Rogers, DeeDee Heyward, Colleen McCauley and Eleanor Peterson were pictured on their way to another fabulous kitchen on the Notable Kitchen Tour .
8. Tourgoers Amanda Swope Joos and Joy Brown tried out a game of scrabble at one of the homes on the Notable Kitchen Tour.
10. Justin Weathers and Joe Monnich provided samples of food from The Bercy, their Ardmore restaurant.  Volunteers Mary Eldridge and Laura Gellrich joined them in the photo op.
11. Tourgoers Ulla Sipila, Katri Troikka and Biergit Hettenrott chatted with tour guide Deborah Ledley (second right).
12. Philadelphia Orchestra staff members Erin Sammis and Nicholas Walls came out to visit the homes and kitchens on the tour. They were pictured with volunteer Wendy Mauchly.