1.. Main Line Today's annual "Women on the Move Luncheon" took place at Drexelbrook in Drexel Hill on Thursday, October 17, 2019. Attendees networked, shared, connected and celebrated with this year's honorees during the annual event. The luncheon began with introductory remarks and recognized 20 outstanding women of the Main Line and the Western Suburbs who are leaders in their respective fields. The scheduled highlight of the 2019 luncheon was 2018 honoree for Women on the Move and award-winning Philadelphia radio host, Kathy Romano. Kathy Romano is a reporter who started her own show on WMMR sister station 95.7 BEN FM called "Her Story" which is an entertainment style show that focuses on influential women. She has spotlighted over 200 women on her weekly program that airs Sunday mornings. Dr. Brannon Claytor and his team (from left) Gabrielle Dalton, Stephanie Mattis, Jessica Sager  and Debbie Lander were pictured as they arrived at the event.
3. Patty Griffin, Michelle Leonard and Carole Felton Shore.
4. Brigid Stasen, Melissa Jacobs, Pat Nogar, Ashley Meyers and Katherine Nails.
5. Lynice Caruso, Natalie Curry and Amy Sheehan.
6. Lori Pastore, Nellye Millie, Ava Ortiz, Lauren DiMartino and Cathleen Helmuth of AME Salon.
7. Charlie Tomlinson, Tanya Tecce, Sal Patti and Carolina Alzate.
8. Valerie-Clark Roden, Bered Nohi, Elissa Bloom, Jennifer Robinson, Angel Padulo and Valori Zaslow.
11. Marie Edwards, Tracy Davidson, Christine Hennigan and Jen Croneberger.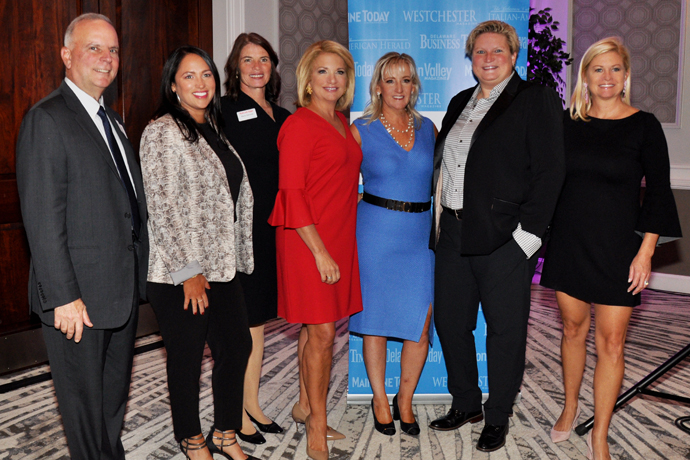 13. Rob Martinelli, CEO and president of Today Media, and publisher of Delaware Today and Delaware Business Times paused for a photo with Kathy Romano, Marie Edwards, Tracy Davidson, Christine Hennigan, Jen Croneberger and Lisi Lerch.