1. On a sunny Sunday, September 8, 2019, The 23rd Annual Radnor Hunt Concours d'Elegance returned to the grounds of Radnor Hunt. Each year, the Concours event, an invitation-only show, has a featured marque, a vehicle type or coachbuilder and a motorcycle make. The 2019 event showcased Buick, The Designs of the legendary Bill Mitchell, and Special Interest Porches. Perhaps most exciting and fun, the main theme of the 23rd annual Concours d'Elegance, was Road Cars with Racing Names, which can be anything from a Ferrari Daytona to a Bentley Brooklands to a Pontiac LeMans. In addition to the wonderful four-wheeled vehicles, Radnor Concours also featured motorcycles this year from Rickman. Don and Derek Rickman built bikes from 1960-1975. They built complete motorcycles less engines, so the variety of machines was quite expansive. Radnor Hunt Concours d'Elegance President Tobey Ross and his wife Read Wickham paused for a photo at Sunday's Main Event.
2. Radnor Hunt Concours d'Elegance Chairman Mike Tillson chatted with Stevi Richards and Steven Stackhouse. They were pictured with the Wilson King entourage seated on a Roof Seat Brake carriage who took part in the carriage parade. 
4. Missy Schwartz manned the hotdog stand at Concours with the help of volunteer Paloma Padilla!
5. Special Guest of Honor Ed Welburn Jr. of General Motors and his lovely wife Jessie paused for a photo with rhis 1930 Packard motor.
7. John and Marlou Gregory and their equipage took part in Concours' carriage parade.
8. Jennifer Geiger, her brother Steve Geiger and his son Noel liked this 1912 Auburn motor!
9. Concours Car Judge Mark Tarlecky and Rose Radclifff were pictured with this 1927 Mercedes.
10. Concours attendees included Derek Jones, Nick Kiniry, Tony Bachick and Heshan Wanigasekera.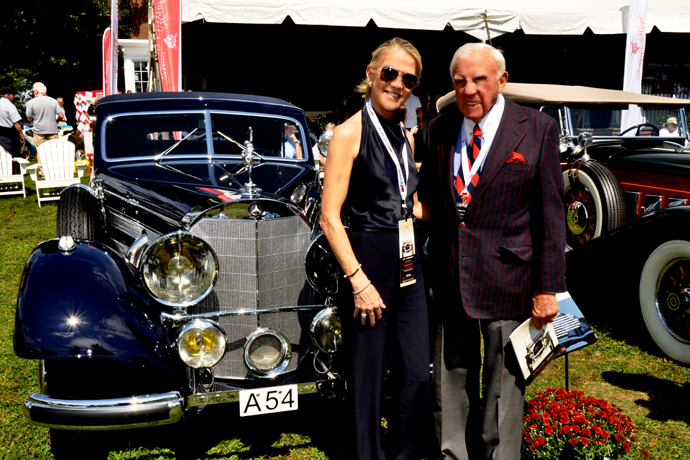 13. Barbara Kravitz and famed photographer Joseph Petrellis also liked the look of the 1938 Mercedes.
14. Thorncroft Equestrian Center was the Concours d'Elegance's beneficiary. Thorncroft's Sallie Dixon chatted with Derek Hedlund at the event.
15. Motor Cycle Judge Jon Crowe examined the 1886 Benz Patent Motorwagen Replica on display during Concours.
16. Joannie Rich, owner of this 1927 Mercedes, paused for a photo with her automobile during Concours.
18, Steve Sansone, Holly Heffernan and Laura Stacy chatted with Concours Car Judge Ted Heffernan.
20. Michael Stemen and Nancy Taber brought this 1941 Buick Phantom Motorcar to the event.