1. Le Dîner en Blanc – Philadelphia returned on Thursday, August 22, 2019 for its eighth edition in the City of Brotherly Love. It was a memorable evening filled with surprise and sophistication, dining and dancing, music and more! Six thousand guests descended on iconic Boat House Row on Kelly Drive which is home to twelve rowing clubs from which four of the city's universities also compete. "Boathouse Row" is maintained by the individual clubs who together are members of the Schuylkill Navy of Philadelphia. DEB event co- chair Natanya DiBona, paused for a photo with Alex Holley of FOX29 and her parents Sharon and Glenn Holley.
2: Jeff Guaracino, president of Visit Philly (center) and a "Most Elegant Table" judge, was pictured with (from left) Michelle Shannon, Alondra Anaya, Conni McDonnell of Touché Accessories and Jordan Parenti as they welcomed DEB guests!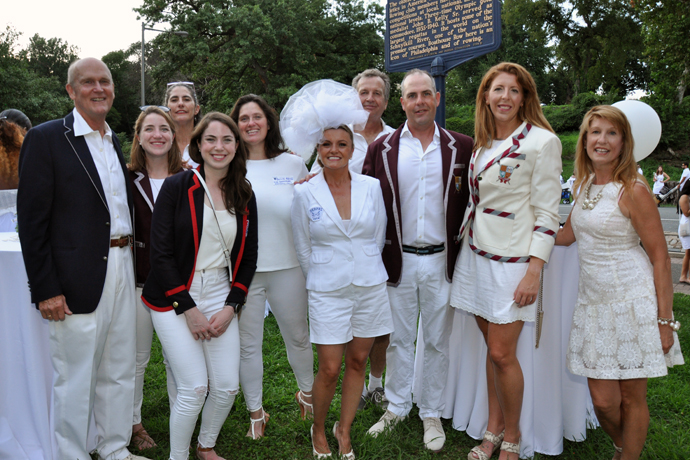 4. Boat House Row members Paul Laskow, Erika McCormick, Jennnifer Mussio, Katie McCormick, Bonnie Mueller, Paul Horvat, John Fife, Maria McDevitt and Michele Baymor gathered for a photo with event co-chair Natanya DiBona (center).
5. Paul Laskow, Margaret Meigs, Paul Horvat, Maria McDevitt, Michele Baymor and Bonnie Mueller marked the occasion with a DEBPHL19 branded oar. Paul Horvat currently leads the Schuylkill Navy as Commodore.
6, 6ABC television personality and DEB "Most Elegant Table" judge Alicia Vitarelli   and Conni McDonnell of Touché Accessories were pictured with the President of the Fairmount Rowing Association, John Krajewski.
9. Lt. Jennifer Vrana and her daughter Suzanne toasted DEBPHL19.
11. Abshishek Varma, Kristina Varma, Margaret Smith, Marta Castaglinola, Sophie On, Leandro Loss,Kevin Niemi, Leela Ehrhart, Marques Bullock, Megan Maltenfort, Hannah Lawman and Miguel Garcia celebrated DEDOHL19 on the grassy area overlooking the Schuylkill River.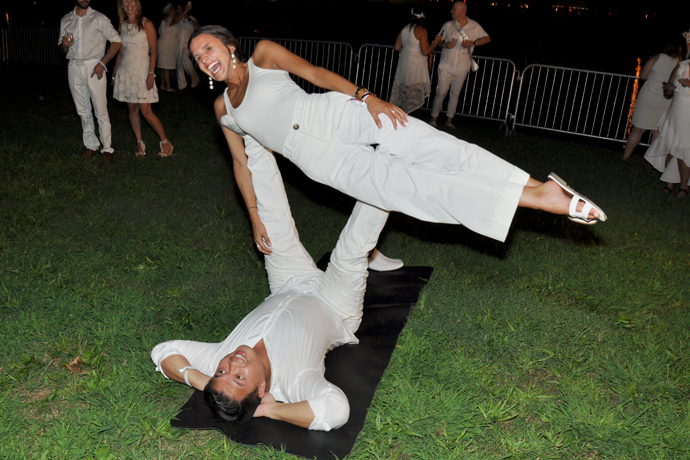 12. Robert Ali showed of his acrobatic prowess by lifting Francesca Geonnotti of the ground solely with his legs!!
13. DEB guests saluted the event with the traditional napkin-waving!
16. Natanya DiBona and DEB committee members gathered for a photo outside the Sedgley Club.
17. Having fun at the Eigth Edition of Le Diner en Blanc!