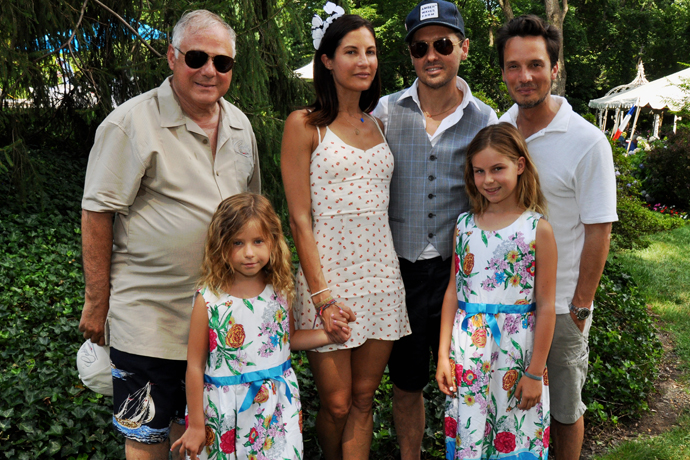 1. On Sunday, July 14, 2019, Frank and Dottie Giordano held their annual Pig Roast & Barbecue at their home in Moorestown, New Jersey. Family members, friends and business acquaintances enjoyed wine, beer, mixed drinks and other refreshments, hamburgers, hot dogs, coconut shrimp, the pig roast and barbecue, and much more! All the fixings of a great and lavish picnic!  Frank Giordano (left)  paused for a photo with family members, Sloane and her mother Dotty Giordano, Misha Jenkins, Chloe Giordano and her uncle John Giordano.
2. Don and Judy Rosato caught up on the latest events with Debbie Webster during the Giordano's annual pig roast.
3. Frank Giordano paused for a photo with Betty McCabe (left) Debbie Webster and Terry McCabe (right).
4. Union League president Charlie Davidson and his wife Susan chatted with Karen and Jon Sirlin,
5. Robert and Beth Braciszewski and Brandon Pugh were pictured at the annual pig roast.
8. Kristie Bergey chatted with Jon Sirlin.
9. Dan, Laura, and Hailey Skillen and Marie Schwarmann enjoyed the day at the Giordano home and its lovely gardens.
10. Alison, Joan and Roger Higgins.
13. Patricia and Michael Tritt and their two sons Tristan and Evan (left and center) enjoyed the summer picnic event at the Giordanos!
14. Frankie and Rachel Giordano (left) , paused for a photo with Amanda Reagan White and Wayne White and their newborn, Malynda Barrett,  and McKenna Dressel. 
15. John Capizzi, Pete and Sharon Porretta, Michael Lefkowitz and Joseph Myers.