1. Philadelphia's popular fast casual, all-vegan restaurant will officially opening in Ardmore on Saturday, June 8. This is the first suburban restaurant for the brand, which now has six locations in Philadelphia and Washington DC. The restaurant is located in Suburban Square at 76 Coulter Avenue, Suite 18, between Pearle Vision and Gap Kids. Opened by Philadelphia plant-based powerhouse Marquis & Co. in 2012, HipCityVeg is a 100% vegan, fast-casual restaurant. Based on the style of traditional fast food, HipCityVeg takes familiar concepts, such as burgers and fries, and turns them into equally delicious, vegan options, making it easier to have one less animal-based meal a day. HipCityVeg currently operates four locations in Philadelphia and one in Washington, DC. For additional information, please visit www.hipcityveg.com or @HipCityVeg. HipCityVeg held a sneak peek at the new restaurant on Thursday, June 6, 2019. (From left) Jane Maguire holding Nuggy, Michelle Lavigne, Nicole Marquis, Katie Chase and Jamie Maguire paused for a photo at the step and repeat during the SneakPeek at HipCityVedge Ardmore.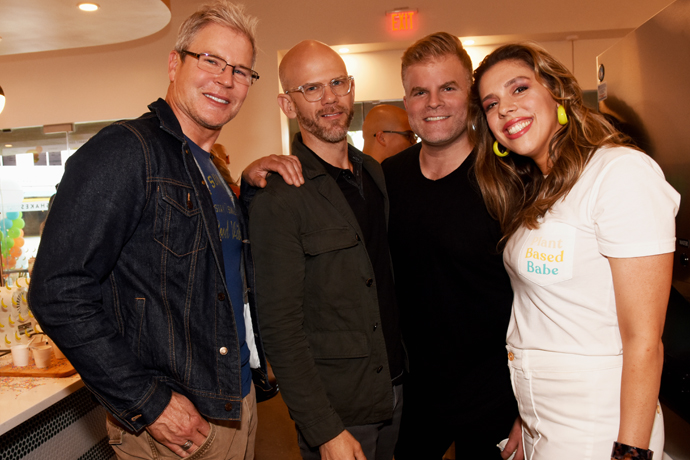 4. David Fierabend, Brian Schoff and Leo Robitschek of the Groundswell Design Group chatted with Nicole Marquis during the SneakPeek. Groundswell Design of the space balances retro and modern aesthetics.
6. Jamie Singer and Karen Ebbert attended HipCityVeg's SneakPeek.