1. On Sunday, June 2, 2019, members and guests of the English Speaking Union gathered for "A Royal Garden Party" at the Kelly home in East Falls, Philadelphia. The Kelly home, purchased by Prince Albert II of Monaco, has been restored to its 1950's glamour with much of its original furniture including the door where the children were measured. This house remains the primary residence for the royal family when they visit Philadelphia with limited access to the public.The annual event celebrated Queen Elizabeth II's birthday. Guests enjoyed live and silent auctions and cocktails and hors d'oeuvres. The Philadelphia Branch of the English-Speaking Union of the United States was founded in 1920. The ESU celebrates English as a shared language to foster global understanding and good will by providing educational and cultural opportunities for students, educators, and members.  ESU Garden Party co-chairs Andy and Debbiw Webster (left) and Mary and Steve Darlington paused for a photo with Alexandra Glaszenska and J.B. Kelly III (center) during the annual event.
2. ESU members Frank and Susan O'Donnell were pictured in the garden.
3. Andy Webster, Stephen Holt and Steve Darlington chatted with J.B. Kelly III.
4. Gordana Loncar chatted with Dr. Donald Rosato during the event.
5. Carole Nevins (left) paused for a photo with Chuck Gupta, Simon Manonian and Margot Gupta.
7. James and Joan Hall and Frank and Susan O'Donnell enjoyed the event.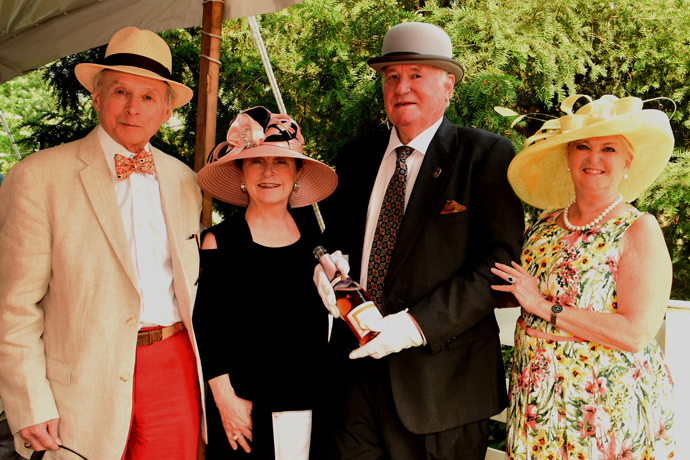 12. Will Jordan, Livia Klaus and Marlou Gregory paused for a photo with Bob Jennings (second right) as he got ready to pour more champagne!. 
13. E-SU members and guests paused for a group photo during the annual garden party.
14. Margaret Hill, Jack Simmonds, Amanda Hill and Greg Cantwell.
15. Auctioneer George McNeely paused for a photo with Susan Gerrity, Genie Klein, Max Yillah and Judith Francis, ESU Executive Director.