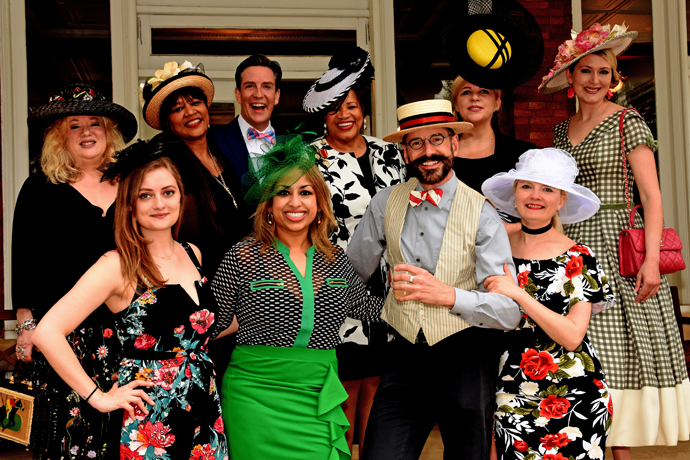 1. The historic West Laurel Hill Cemetery held its 7th Kentucky Derby party "Bow Ties, Big Hats & Bourbon" on Saturday, May 4, 2019. Attendees had an wonderful afternoon with emcee Jim Donovan of CBS 3 Eyewitness News anchor and guest hat judges. They also enjoyed butlered hors d'oeuvres, tea sandwiches,  champagne, a buffet dinner and fashion illustrations by Denise Fike.  This unique event benefits Gateway HorseWorks.Gateway HorseWorks, a 501(c)(3) public charity, offers transformative Equine Assisted Psychotherapy Services to children, adults, and families in a healing, farm-based environment. Back Row: Jamie Singer, Karen Ebbert, Jim Donovan, Pat Nogar of Living Well, and Milliners Kathleen Kenneally and Zoya Egan and front row: Joanie Sweeney, Thanuja Hamilton M.D., Joseph Mengari and Gwen Kaminski gathered for a photo at the event.

3. Deborah Van Cleve Cush who served as a hat judge, paused for a photo with her husband George Cush and Sandra Yodesky.
5. Famed fashion illustrator Denise Fike was on hand to draw the ladies portraits. Denise paused for a photo with Deborah Van Cleve who served as a judge, Milliner Marsha Drummond (a.k.a. Mona the Mad Hatter) and Linda Radesky who were wearing Mona's hat creations.
9. Zoya and Kathleen teamed up for a photo with Sharon Kozden (center).
10. Susan, Carly and Tricia Allison paused for a photo with Tiffany Dubois and Eric Morales.
13. Tate Jozokos, Jenna Meissner and Eddie Keels chatted with West Laurel Hill's Deborah Cassidy.
15. With the Kentucky Derby also comes the fashions, so attendees donned their finest Derby attire to impress the fashion panel!  Deborah Van Cleve, Jennifer Robinson, Kathleen Kenneally, Zoya Egan and Sandra Yodesky paused for a photo before the judging began.