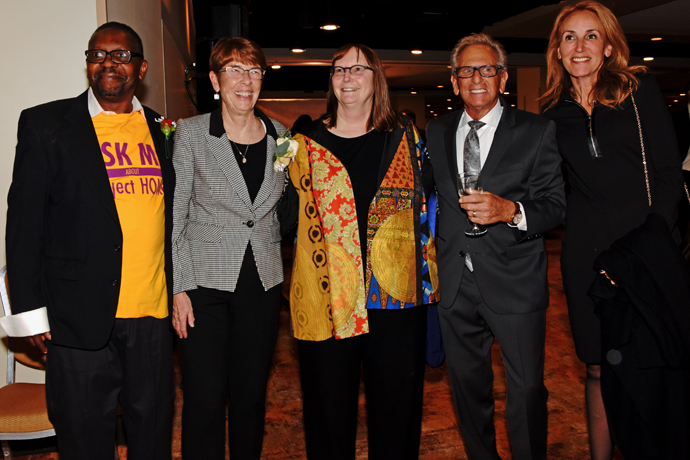 1. Nearly 1,500 of Philadelphia's business leaders, philanthropists, supporters and Project HOME residents came together to celebrate thirty years of work against chronic homelessness. Lynne and Harold Honickman were also honored at the birthday bash, and presented with a Lifetime Achievement Award for their consistent and constant support of Project HOME's work. Since 1989, Project HOME has helped more than 8,000 people break the cycle of homelessness and poverty by providing a continuum of care that includes street outreach, supportive housing and comprehensive services that focus on health care, education and employment through both adult and youth education and enrichment programs at the Honickman Learning Center and Comcast Technology Labs and community-based health care services. Sister Mary Scullion greeted friends and guests as she made her way to the podium for remarks to the guests.
4. Comcast's Brian Roberts (left) said hello to Susanna Lachs Adler, Alice Bast and Margie and Jeff Honickman.
6. Meridian Bank's Chris Annas and his daughter Jessica Annas arrived at the event with Peter and Maria Archer and Chris Godshall.
8. Lynn and Jim Dever, Barbara Scarborough, David Chick and Deirdre McAleer.
10. Korin and Larry Korman, Sara Honickman and Spencer Drutman.
13. Colleen Wyse and Stephen Klasko chatted with Martha Adelson.