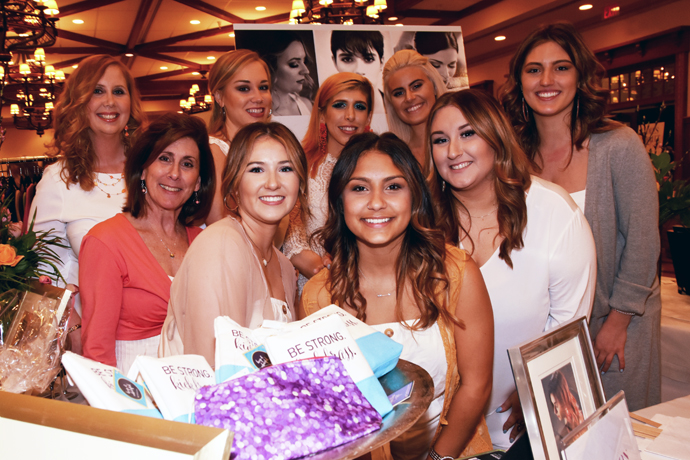 1. Main Line Today magazine held its Ladies Night Out on Wednesday, April 17, 2019 at Aronimink Golf Club in Newtown Square. The well-attended event featured food, drinks, salons, music, shops, services and professionals from the Main Line and Western Suburbs and BreastCancer.Org as its beneficiary. Main Line Today, in print and online, is a sophisticated monthly lifestyle publication
providing its readership with the most exclusive information on living on the Main Line. AME Salon + Spa was the presenting sponsor.  Cathleen Helmuth and the AME team paused for a photo at the event.
3. Stevi Richards and Yvonne Candy paused for a photo with Christine Palmer Hennigan of Knowledge is Power (center).
4. Jo Keleher chatted with Karen Denney of Polka Dots.
7. Olivia Walls, Dawne Jacoby, Alexa Copeland and Diane Miller represented AVE, King of Prussia, a new condominium in the King of Prussia's Town Center.
10. Jennifer Sandner, Crissy Bowden, Betsy Niedziejko, Thecla Bene, Vernita Dorsey and Shari Krudzunski al of WSFS, enjoyed a Girls Night Out!
12.Stephanie Nash, Allison Quinn, Jen Moran, Colleen Moran, Lauren Kohlhepp, Caitlyn Basquill, Danielle McIntyre, and Kate and Peg Moran ( not necessarily in that order!) attended the MLT Ladies Night Out.
13. Alice Martinelli, Beth Wells, Melissa Jacobs paused for a photo with Anya McDonnell and her mother Conni McDonnell of Touche Accessories.