1.  The Pennsylvania Horticultural Society's Philadelphia Flower Show is the nation's largest and longest-running horticultural event,and features stunning displays by the  world's premier floral and landscape designers. Started in 1829 , the Show introduces the newest plant varieties, garden and design concepts, and organic and sustainable practices. In addition to the major garden displays, the Flower Show hosts world-renowned competitions in horticulture and artistic floral arranging, gardening presentations and demonstrations, special events and a mammoth indoor Marketplace. A preview party "Flower Power"took place on Friday, March 1, 2019 to kick off the 190th Philadelphia Flower Show. The fundraiser benefits the exceptional greening initiatives of the Pennsylvania Horticultural Society and provides an exclusive opportunity to experience the Show before it opens to the public. Woodmere Art Museum's CEO Bill Valerio and its Director of Development Anne Standish and Jimmy Owen paused for a photo with PHS President Matt Rader
following his remarks to Preview Party attendees.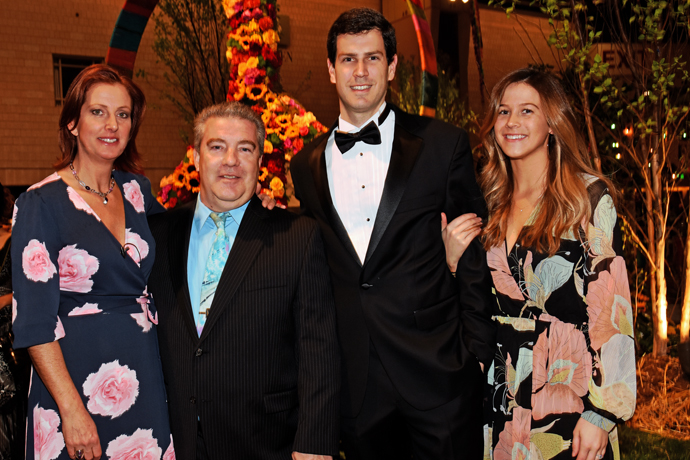 3. Emanuella Williamson, Mike Conrad and Taylor and Alex Ferry of Robertson's Flowers paused for a photo in front of the Robertson Flowers exhibit at the preview party.
5. Lloyd and Thacher Brown, Sarah Roth and David and Quincy McCoy attended the preview event.
7.  Guests included Andrew and Liz Dinsmore, Hugh and Sarah Boston, Ryan Lee and Missey Condie.
10. Anne Callahan and Charles Croce ( left and right) paused for a photo,with Philadelphia City Representative Sheila Hess and Debbie O'Brien.
12. Flower Show interns Kaitlyn Kaprovick, Emily O'Malley, Ari Wilen, Krista Micheletti and Emily Lewis.
14. Jeff and Brittany Browne, Cecilia and John Hudspeth, Chris and Deb Dumont and Lynn and Jim Dever.